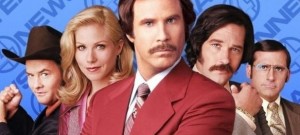 'Anchorman 2′ Confirmed: Will Ferrell Announces Sequel to Cult Comedy Favorite.
After years of chatter and online rumors, a sequel to the cult comedy favorite "Anchorman: The Legend of Ron Burgundy" has finally come together as funnyman Will Ferrell has signed on to star again as 1970s news anchorman Ron Burgundy.
Ferrell showed up at Conan O'Brien's TBS talk show in character as Ron Burgundy on Wednesday, where after a dazzling jazz flute solo and some insulting banter with O'Brien and sidekick Andy Richter he made the announcement.
"I want to announce this to all of our friends in the Americas, Spain, Turkey and the U.K. — including England — that as of 0900 mountain time, Paramount pictures and myself … have come to terms on a sequel to 'Anchorman,'" Ferrell said to massive audience applause. "There will be a sequel."
Ferrell's "Anchorman" co-stars Steve Carell and Paul Rudd, who have both gone on to major movie success since the original hit theaters in 2004, will also return to reprise their roles as dim-witted, lamp- loving Brick Tamland and fashionable lead field reporter Brian Fantana, according Deadline.com.