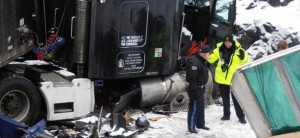 Authorities in northern Ontario planned to use an industrial strength magnet to pick up roughly $3 million in coins after a crash sent two people to hospital with serious injuries, and scattered money and candy all over Highway 11.
A Brinks security truck was travelling south at 4 a.m. on Wednesday morning between the communities of Ramore and Kirkland Lake when it crossed the centre line and hit a rock-face in the opposite ditch, said Const. Marc Depatie of the South Porcupine OPP.
The driver and passenger from the truck were taken to nearby hospitals with life-threatening injuries.