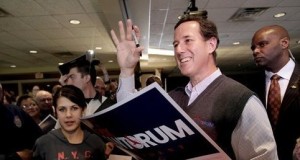 Santorum was talking about rival Mitt Romney, who joked earlier this week about his father, the former chairman of American Motors, closing a factory in Michigan and moving production to Wisconsin.
Santorum suggested Friday that the quip is more evidence that Romney doesn't understand the struggles of working people. He says working people are the ones who will decide the outcome of the presidential election in November.
Santorum said Romney's only argument is that he has "the math" to win. Santorum says vision, not math, is the key to victory. The former Pennsylvania senator was campaigning in Wisconsin for the state's primary next week.