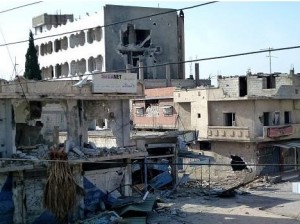 Activists say Syrian forces killed at least seven people on Wednesday as a small group of U.N. observers resumed their mission to monitor a shaky truce in the government's year-long conflict with rebels.
The Britain-based Syrian Observatory for Human Rights says four people were killed and several wounded when security forces opened fire on a bus at a government checkpoint in the northern province of Idlib.
Syria's state-run SANA news agency says security forces killed one "terrorist" in Idlib province after stopping an "attempted infiltration" of armed militants from Turkey. It is unclear if the report was referring to the same incident.
Rights groups also say security forces killed two people in suburban Damascus and that a child died after being struck by gunfire in the eastern region of Deir el-Zour.