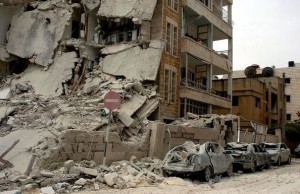 Two car bombs rocked the northern Syrian city of Idlib early Monday morning and killed at least eight people, state media and residents reported, pushing the conflict further from a United Nations-backed cease-fire.
The explosions targeted the air force security and military security buildings in the southern part of the city dominated by government buildings.
State media put the death toll at eight people, though activists said that 20 people, civilians as well as security officers, were killed and more than 100 injured.
It was not immediately clear who was responsible for the blasts. State media blamed the attacks on terrorist groups, the blanket term it has used to describe the opposition since the uprising against President Bashar Assad began more than a year ago.
The Syrian Arab News Agency also reported that the explosions happened near a hotel where U.N. observers had been staying and that the building had been damaged. But it was not clear whether the monitors were still at that hotel.
Neeraj Singh, the spokesman for the U.N. monitoring mission, confirmed that there are two observers in the city but refused to comment further on the situation.
The explosion happened at 6:30 a.m., soon after morning prayers, said one resident who lives in the Shimali neighborhood, in the northern part of the city.
"We are very far from the explosion and we still heard it," she said. The sound was so loud that she and her family initially thought their neighborhood was being shelled again. The resident requested anonymity for safety's sake.