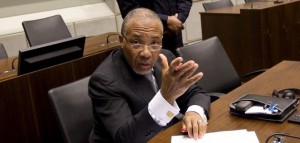 Charles Taylor, the U.S.-educated guerrilla leader who fought his way to the presidency of Liberia, was convicted Thursday of crimes against humanity — including murder, rape and slavery — for his role in assisting a bloody rebel movement in neighboring Sierra Leone.
The conviction, in the U.N. Special Court for Sierra Leone, was hailed by chief prosecutor Brenda J. Hollis as a triumph for the idea that political leaders should be held accountable for their deeds in "the new reality" of an international justice system composed of a half-dozen U.N. courts headquartered in the verdant Dutch city of the Hague.
"This judgment confirms that with leadership comes not only power, but also responsibility," the U.S. jurist declared at a news conference after the verdict was read out over two hours by the presiding judge, Richard Lussick of Samoa.
Elise Keppler, senior counsel in Human Rights Watch's international justice program, said the verdict marked the first such judgment against a former head of state.
"This is a victory for Sierra Leonean victims and all those seeking justice when the worst abuses are committed," she added.