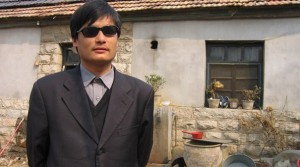 A blind legal activist and inspirational figure in China's rights movement fled the house arrest he has lived under and made it to a secret location in Beijing on Friday, setting off a frantic police search for him and those who helped him, activists said.
Chen Guangcheng's escape, if ultimately successful, would boost a beleaguered civil rights community, which has faced rising arrests and other harassment over the past year.
Activists described an improbable escape, saying Chen slipped away from his well-guarded rural village on Sunday night, driven away by activists and then transferred to others who brought him to Beijing.
By Friday afternoon, Chen "was 100 percent in a safe location," said Bob Fu, an activist based in Texas who runs the China Aid Association and who was in contact with people helping Chen. But Chen's flight unleashed a police crackdown on his relatives and the people who helped him flee, activists said.
"I am now free. But my worries have not ended yet," Chen said in a video that was recorded this week and that activists sent Friday to the overseas Chinese news site Boxun.com, which then posted part of it on YouTube. It could not be independently verified. Speaking to a camera in a room with an off-white curtain drawn behind him, Chen said, "My escape might ignite a violent revenge against my family."