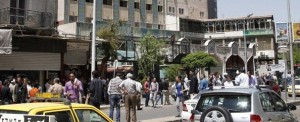 A Syrian intelligence officer was killed in Damascus on Tuesday, opposition sources said, and pro-government television reported at least three people wounded in a car bomb blast in the capital, the latest upsets to a shaky U.N.-monitored truce. The fledgling U.N. observer mission visited the central province of Homs, hotbed of a 13-month-old uprising against President Bashar al-Assad, as part of efforts to solidify the 12-day-old ceasefire.
The UK-based Syrian Observatory for Human Rights said an intelligence officer was killed early on Tuesday in the Barzeh neighborhood of Damascus, but it gave no further details.
Syria's Ikhbaria television said the explosion in a popular Damascus shopping district damaged buildings close to the capital's famed Old City. Iran's Fars news agency placed the blast outside the Iranian cultural center, although the mission run by Assad's major regional ally was not damaged.
Ikhbaria blamed the bomb on "armed terrorists", a reference to rebels inspired by Arab Spring uprisings against repressive autocratic rulers in North Africa and the Middle East who have been fighting to overthrow Assad.
The United Nations says security forces have killed at least 9,000 people, while Damascus says 2,600 of its personnel have died at the hands of insurgents that have seized control of pockets of towns and cities across the country of 23 million and continue to launch daily guerrilla attacks.
The state-run news agency SANA said on Tuesday customs officials on the Syria-Lebanon border had seized a car stuffed with ammunition and weapons, including three machine guns and a rocket-propelled grenade launcher.