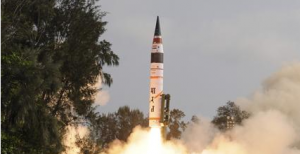 India staged a successful test launch today of a nuclear-capable missile that can reach key Chinese cities, adding a new calculation to the region's complex web of rivalries and giving it a new level of deterrence against regional powerhouse China.
The Agni-V missile can travel 3,100 miles, putting Beijing and Shanghai within India's range. Government officials hailed the launch as "proof that the country has taken its place among the world's most powerful and scientifically advanced nations," although there are a number of tests left to complete before the missile can come into military use, the Associated Press reports.
China already has missiles in its arsenal that can reach anywhere in India, while the longest-range missile in use in India (the Agni-III) can travel only 2,100 miles – not far enough to reach most major Chinese cities, according to AP.