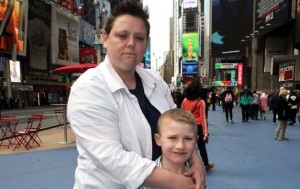 (AP) The first-graders in Ohio Pack 109's Tiger Scouts didn't know or care their den mother was a lesbian – at least not until the Boy Scouts of America threw her out over the organization's ban on gays.
Now, parents who were aware of Jennifer Tyrell's sexual orientation well before she took the boys on campouts and helped them carve race cars for the annual Pinewood Derby have rallied to her defense in a case that has re-ignited the debate over the Scouts' policy.
"I teach my children to judge people on their actions," said Rob Dunn, a father in Bridgeport, a village of about 2,000 across the Ohio River from Wheeling, W.Va. "Whether you agree with their lifestyle or not."
The Boy Scouts of America, whose oath calls for members to be "morally straight," maintains that as a private organization it has the right to exclude gays and atheists from its ranks.