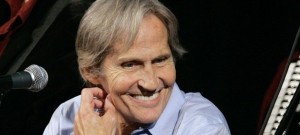 Levon Helm, the enigmatic drummer and baritone vocalist behind The Band has died at the age of 71 after a lengthy battle with cancer, the Times-Herald Record reports. Helm had been hospitalized at New York's Memorial Sloane-Kettering Cancer Center.
"We lost Levon at 1:30 today surrounded by friends and family and his musicians have visited him," Larry Campbell, Helm's guitarist and band leader, told the news paper. "As sad as this was, it was very peaceful."
After last weekend's Rock and Roll Hall of Fame inductions, speculation about Helm's health grew after former Band guitarist Robbie Robertson wished "love and prayers" to the drummer. The two had a falling out in the late '70s after the group broke up.
On Tuesday evening, Helm's family posted a heartfelt message online asking for fans to send their support to the dying drummer. Since then, thousands of people have posted tributes and kind words about Helm.
"Thank you, all, for the outpouring of kindness and love. I know Levon is feeling it and that love will help guide him through this final journey. Thank you for your respect for his, Sandy's and Amy's privacy. YOU are truly people with class and Levon would think the world of you," Helm's manager Barbara O'Brien told fans on Facebook.