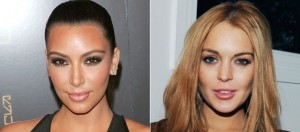 For 364 days a year, Washington, D.C., jokingly bears the nickname "Hollywood for ugly people." But on Saturday, the beautiful West Coast crowd will flock to the powerful East Coast city for a night of presidential roasting and political toasting at the 98th annual White House Correspondents' Association Dinner.
The journalists and media organizations that report on every minutia of the White House will roll out the red carpet for the president and first lady along with some big-hitter politicians. But it's the Hollywood A-listers who often steal the show and put the pizzazz in this scholarship-funding party at Washington, D.C.'s Hilton Hotel.
And this year the celeb sightings will surely not disappoint. From Kim Kardashian and Lindsay Lohan to George Clooney and Reese Witherspoon, reality TV's best and Hollywood's brightest will paint the town alongside Washington's political wonks this weekend.
Here's a look at some of the big names in show business who will share a table with the country's top political reporters, media moguls and politicians at this weekend's White House Correspondents' Association Dinner.