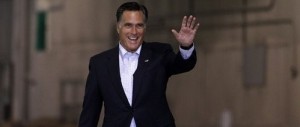 Republican presidential candidate Mitt Romney raised nearly $12.6 million in March and had nearly $10.1 million cash in hand, his campaign announced Friday morning. That's an uptick from his February fundraising haul.
His campaign said March was the best fundraising month of the campaign. In all, Romney has raised $87 million for his campaign and has not put any of his personal wealth into his presidential bid. He has no debt.
President Obama previously announced collecting $53 million for himself and various Democratic Party committees in March, but has not yet provided a breakdown of how much went into his campaign account or how much cash he had stockpiled for the general election. Campaign reports are due at midnight to the Federal Election Commission.
In all, Obama has raised about $350 million for his campaign and the Democratic National Committee.
"Mitt Romney's continued strong fundraising shows that voters across the country are tired of the failures from President Obama," Romney's finance chairman Spencer Zwick said in a statement. "We will continue the hard work to raise the necessary funds to defeat President Obama and change the direction of the country."
Romney officials said that 84% of all donations through March have come in amounts of $250 or less.