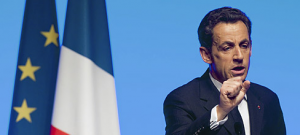 Strong support for far-right leader Marine Le Pen in the first round of France's presidential election has lifted Nicolas Sarkozy's hopes of clinching a second term, but he will struggle to win over enough of her voters to keep him in power.
Surveys show fewer National Front voters will rally behind the conservative Sarkozy in a runoff vote than did in the 2007 election, and as he shifts further rightwards on immigration and Europe he risks alienating the centrist voters he also needs.
Socialist Francois Hollande beat Sarkozy in Sunday's first round by 28.6% to 27.1%, but Le Pen stole the show with a 17.9% score, the biggest tally a far-right candidate has ever managed.
The nearly one in five who voted for her will be key for the runoff between Sarkozy and Hollande, but political analysts see the incumbent's ability to woo them limited by his European commitments and his need to keep centrists on board.
"It will be very difficult for Sarkozy to gather votes from both the National Front and the centre at the same time," said political scientist Jean-Yves Camus, an expert on the far right.