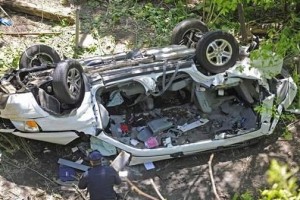 Three generations of a family died in a horrifying crash just a few miles from home when the SUV they were traveling in plunged more than 50 feet off a highway overpass and into a ravine on the grounds of the Bronx Zoo, killing all seven aboard, including three children.
Authorities were trying to determine what caused Sunday's accident that killed Jacob Nunez, 85, and Ana Julia Martinez, 81, both from the Dominican Republic, their daughters, Maria Gonzalez, 45, and Maria Nunez, 39, and three grandchildren. Police say Gonzalez was driving, and all the victims were wearing seat belts.
The children were identified as Jocelyn Gonzalez, 10, the daughter of the driver, and Niely Rosario, 7, and Marly Rosario, 3, both daughters of Nunez.
Werner said the crash scene, less than five miles from Gonzalez's Bronx home, was difficult to see, with contents of the van, including a pink schoolbag, strewn about.
The 2004 Honda Pilot was headed south on the Bronx River Parkway when it bounced off the median, crossed three southbound lanes and hit the curb, causing the vehicle to become airborne, continue over the guardrail and plunge 59 feet, police said.
The cause of the crash, which happened around 12:30 p.m., was unclear, and police haven't yet said how fast the SUV was traveling. A city official said the guardrail's height would be one of the safety issues investigated.