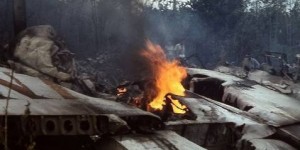 A Pakistani passenger jet with 127 people on board crashed into wheat fields Friday as it was trying to land in a thunder storm at an airport near the capital Islamabad, officials said. Sobbing relatives of those on the flight flocked to the airport as a government minister expressed little hope of finding survivors. Emergency workers used flashlights to search among smoldering wreckage and body parts for any sign of life at the crash site, which was just a few kilometers (miles) from the Benazir Bhutto International Airport. One rescue official asked villagers to bring him sheets to cover the dead.
The aircraft was a Boeing 737-200 operated by Bhoja Air, a domestic carrier that has just four planes and only resumed operations last month after suspending them in 2001 due to financial difficulties. The flight was traveling from the country's largest city of Karachi to the Pakistani capital, officials said. It was the airline's first evening flight from Karachi, a Bhoja Air official said.
Relatives of those on the flight thronged the airline's counters at Karachi and Islamabad airports, crying.
One man said on television that two of the passengers, Sajjad Rizvi and Sania Abbas, were newlyweds flying to Islamabad for their honeymoon.