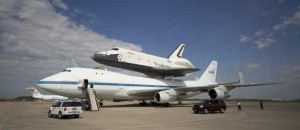 The NASA shuttle is getting the ultimate piggy-back ride to its new home in New York City this morning, setting the stage for a dramatic flyover of the world's most famous skyline.
The Enterprise was affixed atop a specially modified 747 that took off moments ago from Dulles International Airport near Washington, headed for John F. Kennedy International Airport in New York.
There will be plenty of photo ops before it lands: The aircraft will fly near a variety of landmarks, including the Statue of Liberty, although the exact flight plan has not been revealed. NASA plans to live Tweet the event.
The Big Apple has been waiting for this moment all week. The Enterprise was originally supposed to arrive Monday, and then Wednesday. But bad weather scuttled those plans.