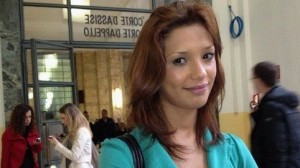 Strippers in nun costumes danced in front of Silvio Berlusconi at his villa, a witness Monday told a Milan court where the former Italian prime minister is on trial for allegedly having sex with an underage prostitute.
Model Imane Fadil said the first time she went to a party she was given 2,000 euros ($2,600) in cash by Berlusconi, who told her: "Don't be offended." That night she said she saw two young women in nun costumes with "black tunics, white veils and crosses" stripping in front of the then prime minister. One of the two was Nicole Minetti, now a regional councillor for Berlusconi's People of Freedom party in Milan, Moroccan-born Fadil said.
She said Minetti and the other woman ended up staying the night at the villa near Milan and alleged that women who stayed were paid more for sex. Fadil said she had heard of Berlusconi having sex for money with at least two of the women invited to his parties, Italian media reported. Fadil also said she had come under pressure from a mysterious man to go back to the villa last year when the Berlusconi trial had already started.
"A man stopped near my house and gave me an untraceable phone to organise a visit to Arcore. But I didn't want to," she told the courtroom. Berlusconi is charged with having sex with an underage prostitute, Karima El-Mahroug, and then allegedly abusing his powers by getting police to release her when she was arrested for theft so that his crime would not be revealed.