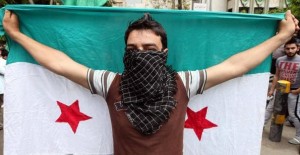 Syrian troops fired bullets and tear gas to disperse thousands of protesters Friday, activists said, and state media reported that a roadside bomb killed 10 soldiers in the latest violence to defy international efforts to calm the country's crisis.
Protesters spilled out from mosques onto the streets in cities and towns across Syria, calling for the downfall of President Bashar Assad and chanting in support of the country's rebel forces, activists said.
A cease-fire that technically went into effect last week has been steadily unraveling, but the truce is still seen as the most viable way to end the bloodshed that has killed more than 9,000 people since the uprising against Assad began 13 months ago. The U.N. has sent a team of seven international observers into Syria, with the hopes of boosting the numbers soon.
U.S. Secretary of State Hillary Rodham Clinton called Thursday for the U.N. Security Council to adopt an arms embargo and other tough measures against Syria. And U.N. Secretary-General Ban Ki-moon took a hard line against Damascus, saying Syria was not honoring the cease-fire and that violence was escalating.
On Friday, protests were reported in the capital Damascus and its suburbs, as well as in the northern city of Aleppo, the central regions of Hama and Homs, in eastern towns near the border with Iraq and in the southern Daraa province.
"Security is extremely tight in Damascus," said activist Maath al-Shami, adding that despite the wide presence of plainclothes security agents, there were protests in the capital's neighborhoods of Qaboun, Midan, Barzeh and Mazzeh.