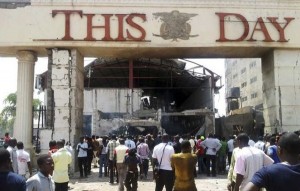 Two suicide car bombers targeted the offices of Nigerian newspaper This Day in the capital Abuja and the northern city of Kaduna on Thursday, killing at least three people, officials and witnesses said.
This Day is based in southern Nigeria and is broadly supportive of President Goodluck Jonathan's government, the main target for Islamist insurgent group Boko Haram. There was no immediate claim of responsibility for the bombings.
A suicide bomber drove a jeep into the daily's Abuja office, killing himself and two others, witnesses said.
"We have collected three bodies but before we got here people had already been moved," Nigerian Red Cross spokesman Nwakpa Nwakpa told Reuters at the scene of the Abuja blast.
A Reuters witness saw the second attack in Kaduna, when a suicide car bomber drove into the This Day office compound and tried to detonate his explosives but was stopped by bystanders, who dragged him out of the vehicle.
The bomb later went off, killing at least one, Police Commissioner Mohammed Abubakar confirmed on the scene.