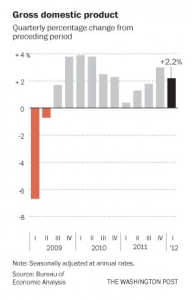 The pace of recovery slowed in the US in the first three months of the year as government spending fell and a build-up in inventories eased.
The commerce department said Friday that gross domestic product (GDP), the broadest measure of all the goods and services produced in an economy, grew at an inflation-adjusted annual rate of 2.2% in the first quarter of 2012.
Economists surveyed by Dow Jones Newswires had forecast first-quarter GDP would increase at a 2.6% rate. In the final three months of 2011, the economy grew at a 3.0% rate.
Consumers fuelled the rise, the commerce department said. Personal consumption expenditures rose 2.9% during the quarter – the best gain since the fourth quarter of 2010.
Most of the rise came from pent up-demand for cars. Motor vehicle output added 1.12% to the first-quarter change in real GDP.
The slowing expansion "primarily reflected a deceleration in private inventory investment and a downturn in non-residential fixed investment," a category that includes spending on building and industrial equipment.
David Semmens, senior US economist at Standard Chartered said: "It's not a fantastic report. Vehicles accounted for half the growth – that's not sustainable. Consumers are continuing to spend money that they don't have."
He said the figure was in lune with expectations but that it was clear the US still faced significant challenges.
This week the Federal Reserve predicted growth of 2.4% to 2.9% for the year, up from 2.2% to 2.7%.
The US economy has been slowly recovering since the second half of 2009 and has continued even as Europe has slipped back into recession.
Fed chairman Ben Bernanke called the slow pace of recovery "frustrating" this week. "Here we are almost three years from the beginning of the expansion, and the unemployment rate is still over 8% … It's been a very long slog. And that, I think, would be the single most concerning thing," he said.