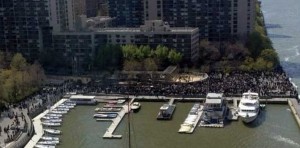 Hundreds of people were evacuated from 2 World Financial Center on Thursday morning after what appears to be a grenade was spotted in a mail package, police sources said. The FedEx package was being scanned by workers from Brookfield Properties when they spotted the object, which looks like a grenade, through an X-ray image about 11 a.m., the sources said.
Officers from the NYPD's emergency service unit and bomb squad immediately responded to the Liberty St. skyscraper and are evaluating the package to determine its contents. People who were inside said they were alerted by an intercom announcement, which asked everyone to leave the building because of a police investigation downstairs.
Officials also evacuated part of a neighboring building.