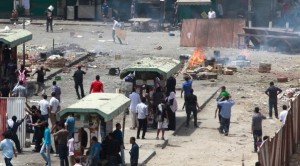 At least 11 people were killed Wednesday when unknown attackers armed with guns and firebombs clashed with protesters near the Defense Ministry in an escalation of violence symbolizing the country's political divisions ahead of this month's presidential elections.
The assailants rushed from an adjoining neighborhood at dawn and fought about 500 demonstrators, many of them supporters of Hazem Salah abu Ismail, an ultraconservative Islamist preacher recently disqualified from the presidential race. Authorities said at least 49 people were wounded.
The violence adds to the turmoil that has engulfed Egypt since last year's overthrow of former President Hosni Mubarak. The elections scheduled for May 23-24 are seen as the final transition to democracy. But the unrest and the military's hold on power have fueled anger and political uncertainty and led to new calls for large street marches.
The protesters were a mix of Ismail backers and activists opposed to the ruling Supreme Council of the Armed Forces. As in previous protests against the military, thugs sympathetic to the old regime or hired by unnamed forces appeared amid a lack of police. Neighborhood residents exasperated with demonstrations have also reportedly attacked the protesters.
Authorities said the deaths and injuries early Wednesday were caused by live ammunition, rocks, clubs and other weapons. The protests began nearly one week ago. Army forces were reportedly moving into the area to disperse the sit-in and stop other protesters from marching toward the Defense Ministry.
The army has promised to hand power to a civilian government by July 1.