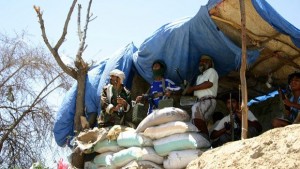 Islamist gunmen killed at least 32 government soldiers on Monday when they stormed a military position in southern Yemen where militants control broad swathes of territory, a military official said.
Yemen has a seen a surge in violence in the south since President Abd-Rabbu Mansour Hadi took office in February, prompting the government to respond with air strikes and the United States with drones that target militants.
Ansar al-Sharia (Partisans of Islamic Law) said the latest raid was a response to recent statements by Hadi that he would defeat the militants, who have been emboldened by more than a year of political upheaval.
Monday's attack came hours after a suspected U.S. drone strike killed two men in a neighboring province, including one the government described as a senior member of al Qaeda.
The military official told Reuters gunmen attacked Yemeni troops outside the city of Zinjibar, the capital of Abyan province, killing at least 32 servicemen. They had captured a number of soldiers and made off with weapons and ammunition, he added.
At least 40 soldiers were wounded in the attack, the official and medical sources said. A spokesman for Ansar al-Sharia, an al Qaeda-linked group that seized Zinjibar last year, said his side had captured 28 soldiers and a tank in the raid.