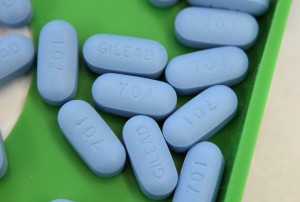 (AP) A pill to prevent HIV infection is already being given to some healthy people, but without government approval, it remains out of reach and too costly for many who need it.
Doctors, patients and advocates say that would change if the Food and Drug Administration takes a landmark step and allows the pill, Truvada, to be marketed for prevention. The drug has been used for some time as a treatment for those already infected with the AIDS virus.
"This is a pretty radical step, but I think it's a necessary step," said Dr. Lisa Sterman of San Francisco, who prescribes the drug for already infected patients and those who are healthy but at risk of getting the virus from their partners or through risky sex.
"We've come as far as we can with condom use and safe sex strategies," Sterman said.
A panel of advisers to the Food and Drug Administration late Thursday endorsed using Truvada as a preventive.
In the 30-year battle against AIDS, "it's the first time we have talked about a medication for prevention of HIV," Sterman said.
Doctors are allowed to prescribe Truvada "off-label" for prevention, but FDA approval would formally allow the pill's maker Gilead Sciences to market it for that use. It would probably lead many more insurance companies to pay for the costly drug. The FDA usually follows advisers' recommendations and a decision is expected by June 15.