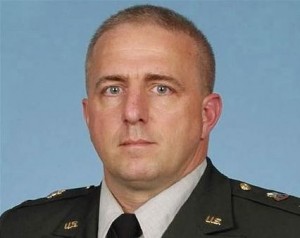 Army investigators say they found no bullet wound and no foul play in the death of a soldier who died during a Skype video chat with his wife.
Capt. Bruce Kevin Clark's wife says her husband fell forward and she saw a bullet hole in the closet behind him, raising the question of whether he had been shot. But Christopher Grey, a spokesman for the Army Criminal Investigation Command, said Monday that no bullet wound was found in Clark's body. Grey says an autopsy is being done to determine the cause of death.
Capt. Bruce Kevin Clark's brother-in-law Bradley Taber-Thomas released a statement saying Clark's wife, Susan Orellana-Clark, was talking to her husband when he suddenly collapsed. Orellana-Clark saw a bullet hole in a closet behind him.
The statement says the Skype link remained open for two hours Monday as family and friends in the U.S. and Afghanistan tried to get Clark help. Then two military personnel arrived and appeared to check his pulse.
The family says they gave no details on his condition to his wife. The Pentagon has said the cause of Clark's death remains under investigation.