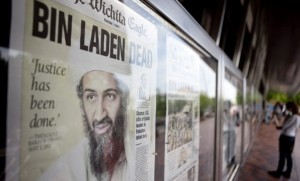 Newly released documents recovered from the compound where Osama bin Laden was killed show that al-Qaeda's core leaders were divided over how to manage an emerging group of distant affiliates that showed little discipline or willingness to take direction.
In a letter from bin Laden to one of his top deputies in 2010, the al-Qaeda chief expressed alarm over the "increased mistakes" committed by the "brothers" in countries including Iraq and Yemen, and he pushed to bring the groups in line, according to a material cited from the document in a report released Thursday by the Combating Terrorism Center at the U.S. Military Academy at West Point.
Bin Laden and others were frustrated with the groups' attacks on Muslims, clumsy media operations and reluctance to focus their energies on attacking the United States and its Western allies.
The report also notes that "there are no explicit references to any institutional Pakistani support for al-Qaeda and its operatives." Suspicion that bin Laden may have been sheltered by elements within the Pakistani security establishment arose immediately after his killing but were never established.
Besides bin Laden, others in al-Qaeda's inner circle expressed exasperation. The U.S.-born media adviser Adam Gadahn urged bin Laden and others to disassociate al-Qaeda from affiliates that refused to toe the line.
The details are embedded in a collection of 17 files released Thursday by the Obama administration a year and one day after bin Laden was killed at a compound in Abbottabad, Pakistan, by a team of U.S. Navy SEALs.
The records were made available online by the Combating Terrorism Center, an organization that had exclusive access to the materials for several months and issued a report summarizing its findings.