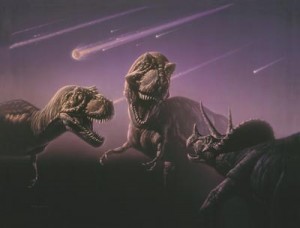 In a major new climate finding, researchers have calculated that dinosaur flatulence could have put enough methane into the atmosphere to warm the planet during the hot, wet Mesozoic era.
Like gigantic, long-necked, prehistoric cows, sauropod dinosaurs roamed widely around the Earth 150 million years ago, scientists reported in the journal Current Biology on Monday.
And just like big cows, their plant digestion was aided by methane-producing microbes.
"Indeed, our calculations suggest that these dinosaurs could have produced more methane than all modern sources – both natural and man-made – put together," researcher Dave Wilkinson of Liverpool John Moores University said.