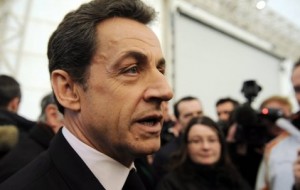 France wound up a long and rancorous presidential campaign Friday with opinion polls predicting victory for Francois Hollande, the Socialist candidate who promises economic stimulus measures to soften the austerity cutbacks imposed by President Nicolas Sarkozy during the European debt crisis.
Sarkozy, a business-oriented conservative battling for a second five-year term, told his followers in a final rally that the race was not over despite what the polls and political commentators said. Political specialists explained that he was counting on a bloc of undecided voters — estimated at up to 10 percent of the electorate — to tip the balance in his favor at the last minute before Sunday's runoff ballot.
"Never, I think, has an election been so undecided," he said Friday in a broadcast interview.
Hollande, also citing the danger of the undecided vote, appealed to his backers not to become complacent. "The polls are there, and they show a closing of the gap," he said in a radio appearance. "So I say to all those who want me to be the next president, don't let others decide in your place."
At stake was not only France's approach to dealing with dangerously high debts that have undermined faith in the euro, the European Union's common currency, and raised doubts about the union's economic stability. Hollande's candidacy also constituted a challenge to the E.U.'s insistence — led by Chancellor Angela Merkel of Germany — that the deficits and debts must be whittled down across the continent even if the price is more unemployment and economic stagnation.
Hollande repeatedly has pledged to renegotiate an E.U. treaty agreed on in December that binds the 27 governments to bring down their deficits under threat of fines. The treaty must be expanded to include measures designed to promote economic growth, he said, since that is the only way to put money in people's pockets, increase tax revenues and bring a permanent end to the crisis.