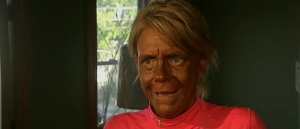 Police arrested a well-bronzed New Jersey woman they say brought her 5-year-old daughter into a tanning booth, causing the young girl to suffer burns.
Patricia Krentcil, 44, was charged with second-degree child endangerment, although she says her daughter, Anna, was never exposed to the booth's harmful UV rays and that the sunburn was a result of playing outside. The Nutley, N.J. mother told New York's CBS 2 TV that she loves to tan. "I've been tanning my whole life, going to the beach, tanning salons and so forth," she said, although she insisted she would never let her fair-skinned daughter accompany her into the tanning booth.
Krentcil told NBC 4 New York that her daughter accompanies her on errand runs, and that tanning is included in those errands, but emphasized she did not let her daughter join her in the tanning booth.