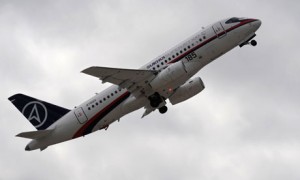 The demonstration airplane for a new model of Russian passenger jet vanished from radar screens and lost contact with ground controllers Wednesday during a flight in Indonesia for airline representatives and journalists that was meant to promote sales of the aircraft.
Russian and Indonesian authorities confirmed the loss of contact with the crew of the airplane, called a Sukhoi SuperJet 100, during a flight that departed from Halim airport in Jakarta, the capital, and was to return to the same location 50 minutes later.
News agencies reported 46 people were aboard the plane, the first newly designed passenger jet made in Russia since the Soviet collapse, though it was unclear whether this included the crew.
The plane vanished soon after the pilot requested permission to descend, a spokesman for the Russian Embassy in Indonesia told the Interfax news agency.
The agency also cited an unidentified spokesman for the Russian Transportation Ministry saying a preflight check had turned up nothing suspicious, a standard assurance offered by Russian transportation authorities after mishaps.
"The plane was absolutely flight worthy," the spokesman said.
The new model of passenger jet carried much of this country's hopes of reviving a commercial aerospace industry with a storied history of accomplishments but plagued by safety problems, breakdowns and lethal crashes, rendering it virtually unable to sell planes outside the former Soviet Union, Iran, Cuba and parts of Africa.