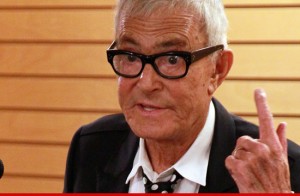 Vidal Sassoon, hair stylist and fashion world pioneer who created a natural look in the 1960s and built a multimillion-dollar business on his name, died on Wednesday after a long battle with leukemia. He was 84.
Sassoon died at his home in Los Angeles surrounded by loved ones and his wife of 20 years, Ronnie, his family said in a statement. "He will be greatly missed," they said.
The British stylist's scissors spelled the end of the 1950s-era beehive and the bouffant — untouchable hairstyles that owed their existence to lacquer and hair pins –and brought him international fame and fortune.
Sassoon was dubbed a pioneer for coming up with so-called wash and wear looks – liberating many women from weekly salon trips to have their hair done.
But as much as he was a genius in the salon, Sassoon was a whiz in business. He began marketing his name, styles and cutting techniques in a worldwide line of beauty salons, hair-cutting schools and later, related lines of hair products.
Still, Sassoon never felt the profession that he put at the forefront of modern fashion received the respect it was owed.
"Hairdressing in general hasn't been given the kudos it deserves," Sassoon told Reuters in 2010. "It's not recognized by enough people as a worthy craft."
"If you get hold of a head of hair on somebody you've never seen before, cut beautiful shapes, cut beautiful architectural angles and she walks out looking so different – I think that's masterful," he said.