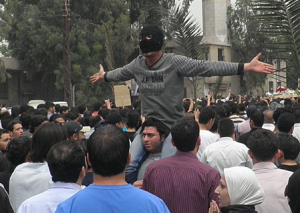 Syrian security forces stormed dormitories at Aleppo University to break up anti-government protests, killing at least four students and wounding several others in an hourslong rampage that ended Thursday morning and left part of the campus in flames, activists and opposition groups said.
They said the main university in Syria's largest city shut down in the wake of the violence, but it was not clear for how long.
Around 1,500 students had been protesting in student quarters next to the main campus late Wednesday when security forces and pro-regime gunmen swept into their residences, firing tear gas at first, then live ammunition to disperse them.
The raid followed an attack on the protesters by pro-regime students armed with knives, activists said.
Student activist Thaer al-Ahmed said panic and chaos ensued as students tried to flee.
"Some students ran to their rooms to take cover but they were followed to their rooms, beaten up and arrested," he said. "Others suffered cuts and broken bones as they tried to flee."
Raids and intermittent gunfire continued for about five hours through early Thursday, he said, adding that dozens of people were wounded, some critically, and around 50 students were arrested at the state-run university.