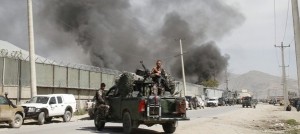 The Taliban struck back less than two hours after President Barack Obama left Afghanistan on Wednesday, targeting a foreigners' housing compound with a suicide car bomb and militants disguised as women in an assault that killed at least seven people.
It was the second major assault in Kabul in less than three weeks and highlighted the Taliban's continued ability to strike in the heavily guarded capital even when security had been tightened for Obama's visit and Wednesday's anniversary of the killing of al-Qaida leader Osama bin Laden in neighboring Pakistan.
Obama arrived at Bagram Air Field late Tuesday, then traveled to Kabul by helicopter for a meeting with President Hamid Karzai in which they signed an agreement governing the U.S. presence after combat troops withdraw in 2014. Later, back at the base, he was surrounded by U.S. troops, shaking every hand. He then gave a speech broadcast to Americans back home, before ending his lightning visit just before 4:30 a.m.
The U.S. president, who is in the midst of a re-election campaign, touted the Navy SEAL raid that killed bin Laden a year ago Wednesday, noting that the operation was launched from a base in Afghanistan.
He also said that "the tide has turned" over the last three years.
"We broke the Taliban's momentum. We've built strong Afghan security forces. We devastated al-Qaida's leadership, taking out over 20 of their top 30 leaders," he said.