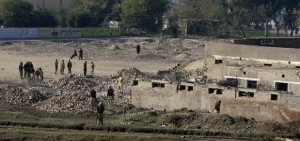 At least 19 were killed in Pakistan today when a suicide bomber attacked a security post near the Afghan border. The Taliban claimed responsibility for the attack, saying it was retaliation for the death of Al Qaeda commander Sheik Marwan, who was killed by local security forces there in 2011.
The attack targeted the head and deputy head of a security force made up of local Pashtuns, known as Bajaur Levies, The New York Times reports. The two men were visiting the area – a crossroads in the capital of Bajaur district, Khar, near the market – to check on reports of a possible attack. Some 57 people were wounded. Pakistan's GeoNews puts the death toll at 22.
Agence France-Presse reports that Bajaur has been "one of the toughest battlegrounds" in Pakistan's efforts to dislodge the Taliban from its northwestern provinces. Today's attack was the third bombing in two days in the district, with two yesterday killed pro-government elders and local security personnel.
The whole country has been on a high state of alert since May 1, driven by concerns about retaliatory attacks on the first anniversary of Osama bin Laden's killing, according to AFP.
CBS/Associated Press report that in the batch of documents from Osama bin Laden's compound that were made public yesterday, Mr. bin Laden expressed concern about the number of civilians who were being killed by Pakistani militants.