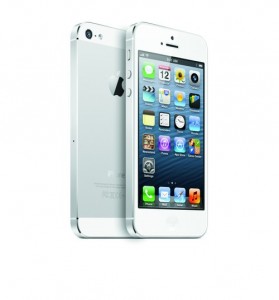 Apple (AAPL) officially showed off the newest iterations of its wildly popular smartphone Wednesday morning in San Francisco, confirming that the iPhone 5 will be larger, lighter and faster while connecting to newer cellular networks.
Apple CEO Tim Cook got acolytes and analysts fired up at the Yerba Buena Center for the Arts, kicking off the unveiling of the first all-new Apple phone since the company's co-founder and longtime CEO, Steve Jobs, died last year by telling the large crowd, "We've got some amazing things to show you."
Apple marketing guru Phil Schiller followed Cook on stage for the official introduction, calling the iPhone 5 the "most beautiful device we've ever made." He immediately showed that the new iPhone will be taller than previous iterations, with a size of 4 inches instead of the previous 3.5 inches, allowing Apple to add a fifth row of icons to the home screen. The phone will be the thinnest and lightest iPhone yet despite the size change, with Schiller saying the iPhone 5 is 20 percent lighter than the iPhone 4S at 112 grams.
Source: Mercury News