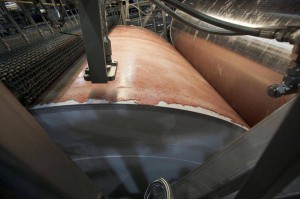 Beef Products Inc. filed a defamation lawsuit Thursday against ABC News for its coverage of a meat product that critics have dubbed "pink slime," alleging that the network misled consumers to believe the product is unhealthy and unsafe.
The Dakota Dunes, S.D.-based meat processor is seeking $1.2 billion in damages for roughly 200 "false and misleading and defamatory" statements about the product officially known as lean, finely textured beef, said Dan Webb, BPI's Chicago-based attorney. The lawsuit filed in a South Dakota state court also accuses ABC News of improper interference with the relationships between BPI and its customers.
"It caused consumers to believe that our lean beef is not beef at all – that it's an unhealthy pink slime, unsafe for public consumption, and that somehow it got hidden in the meat," Webb said before the company's official announcement.
ABC News, owned by The Walt Disney Co., denied BPI's claims.
"The lawsuit is without merit. We will contest it vigorously," Jeffrey W. Schneider, the news station's senior vice president, said in a brief statement Thursday.
Source: Huffington Post