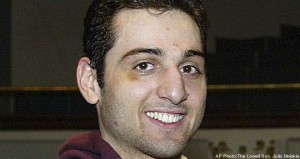 The deceased Boston Bombing suspect was investigated by FBI in 2011 after request from a foreign govt. He is from Chechnya, or has some connections to that region.
Law enforcement officials questioned Tamerlan Tsarnaev, the 26-year-old Boston marathon bombing suspect who was killed Friday, in 2011 at the request of a "foreign government" concerned about his religious background ahead of a planned visit to its country, according to the FBI.
"The request stated that it was based on information that he was a follower of radical Islam and a strong believer, and that he had changed drastically since 2010 as he prepared to leave the United States for travel to the country's region to join unspecified underground groups," the agency said in a statement.
Authorities subsequently questioned Tsarnaev and his family members, including a review of his travel history, "derogatory telephone communications," and "possible use of online sites associated with the promotion of radical activity," but found no evidence of terrorism activity.
Government officials told the Associated Press Friday that Tsarnaev had traveled to Russia last year and returned to the U.S. six months later.