UPDATE: Venezuela's Capriles demands recount of votes
Opposition leader refuses to recognise election victory of Nicolas Maduro in tighter-than-expected presidential poll.
Venezuelan opposition leader Henrique Capriles has refused to accept ruling party candidate Nicolas Maduro's narrow election victory and demanded a recount.
"Today's loser is you," he told a news conference on Monday, referring to Maduro, adding: "We won't recognise a result until every vote has been counted".
Socialist candidate Nicolas Maduro addresses the crowd after winning Venezuela's presidential poll
The National Electoral Council said late on Sunday that Maduro won 50.66 percent of the vote compared to 49.07 percent for Capriles – a difference of less than 300,000 ballots – allowing him to carry forward the policies of the late Hugo Chavez.
———————————————————————————-
Venezuela election: Maduro has small lead over Capriles as voting starts
Venezuelans went to the polls on Sunday to vote whether to honour Hugo Chavez's dying wish for a longtime loyalist to continue his hardline socialism or hand power to a young challenger vowing business-friendly changes.
Acting President Nicolas Maduro had a double-digit lead over opposition challenger Henrique Capriles in most polls heading into election day, buoyed by Chavez's public blessing before he died from cancer last month. But the gap narrowed in recent days, with one survey putting it at 7 percentage points.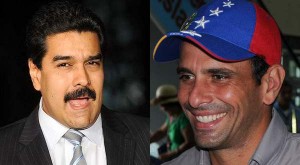 rw