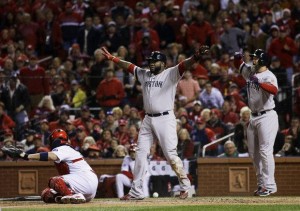 Big PAPI extends his tear,leads His Team as the Red Sox Top The Cardinals Lead 3-2 in Series
The World Series is down to three games, one in St. Louis and possibly two in Boston.
The last two games have ended like no other World Series games before them, Game 3 on an obstruction play in which Allen Craig scored the winning run for the Cardinals from third base and Game 4 on a pickoff by Boston closer Koji Uehara of pinch-runner Kolten Wong at first base.
There have been good plays, bad plays and a key reversal of an umpire's call. What it has been is a World Series hard to describe, but fascinating to watch.
So who is going to be the MVP:
Well, Maybe David Ortiz? Red Sox: Big Papi has been off the charts. He enters tonight's Game 5 hitting .727 (8-for-11) with two homers, five RBI and five runs.