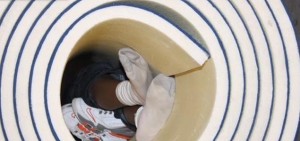 New surveillance video released Wednesday in the case of a Georgia teen found dead inside a rolled-up gym mat raises more questions than it answers.
There were 36 cameras inside and outside the gym of Lowndes High School in Valdosta, where the body of Kendrick Johnson was discovered. The video was released as a result of legal action, filed by his family, that CNN joined.
Johnson's family suspects the 17-year-old was murdered and that someone has tried to cover up evidence in the case.
One clip shows Johnson in the gym. A second shows him walking in, then running out of the frame. In both videos, students suddenly appear.