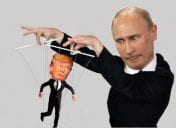 Glenn Simpson, whose firm compiled an infamous and salacious dossier about President Donald Trump's ties to Russia, told Senate investigators Tuesday that he "stands by" its findings. The private investigator and former reporter spent more than 10 hours being questioned by the Senate Judiciary Committee after Chairman Chuck Grassley withdrew a subpoena when Simpson agreed to testify behind closed doors. In addition to meeting the Senate Judiciary Committee for 10 hours, Simpson also gave the committee more than 40,000 documents which are the backup for the dossiers findings.
Simpson co-founded the private research firm Fusion GPS, which was hired to produce a report on Trump. The dossier, largely prepared by former British intelligence agent Christopher Steele, alleges collusion between Trump's campaign and Russia. Among other explosive claims about the president's links to the country are that the Kremlin has a compromising video of Trump getting prostitutes to urinate on a bed in a Moscow hotel.
There is a push now to make the transcript from testimony from Simpson public, which Simpson has said publicly he has no problem with.