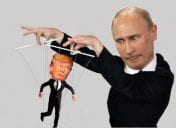 The Senate Intelligence Committee strongly backed the finding by U.S. intelligence agencies that Russian President Vladimir Putin ordered a campaign to interfere in the 2016 presidential election, ultimately intending to help Donald Trump win.
The Senate committee said on Tuesday that that during its review, it was consistently told that intelligence analysts were under "no politically motivated pressure to reach any conclusions".
"The committee concurs with intelligence and open-source assessments that this influence campaign was approved by President Putin," the panel said Tuesday in a report that endorsed as "sound" the intelligence findings issued in January 2017. The committee said there was a body of intelligence "to support the assessment that Putin and the Russian Government developed a clear preference for Trump."
The Senate panel, which has sustained the only major bipartisan investigation into Russian meddling, forcefully rejected a campaign led by House Republicans and President Trump, who have contended that anti-Trump bias tainted the Russia inquiry from the start.
Intelligence Chairman Richard Burr, a North Carolina Republican, said that after 16 months of investigation, his panel "sees no reason to dispute the conclusions" reached by the intelligence community. "The committee continues its investigation and I am hopeful that this installment of the committee's work will soon be followed by additional summaries providing the American people with clarity around Russia's activities regarding U.S. elections."
More from Bloomberg