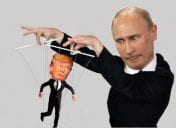 Current and former American diplomats are expressing disgust and horror over the White House's willingness to entertain permitting Russian officials to question a prominent former U.S. ambassador.
During President Trump's press conference with Vladimir Putin in Helsinki, Putin pivoted a question about extraditing the 12 Russian intelligence officers whom Robert Mueller has indicted into a request to prosecute Bill Browder, whose exposure of widespread Russian tax fraud led to the passage of a U.S. human rights sanctions law Putin hates. Browder was accused by Putin of masterminding an illegal campaign contribution to Hillary Clinton and alleging vaguely that he had "solid reason to believe that some intelligence officers guided these transactions." Should Trump permit the Russians to question people around Browder, Putin hinted, he will let Mueller's people be "present at questioning" of the intelligence officers.
Standing Right Next To Trump.
On Wednesday, Russia escalated the stakes when the prosecutor-general's office said it wanted to interview Michael McFaul, the former U.S. ambassador to Russia.  Sarah Huckabee Sanders declined to rule out permitting the Russians to question McFaul. saying that there had been "some conversation" in Helsinki about the issue, though Trump made no "commitment." "The president is gonna meet with his team and we'll let you know when we have an announcement on that," Sanders said.
A current U.S. diplomat said the openness to turning over McFaul capped off a shocking week for U.S. geopolitics.  "The president has first and foremost his interests at the top of his mind, as opposed to the government's. That's very clear over the past week and a half, between shitting on our NATO allies and kissing Putin's ass," the diplomat said. "He cares more about himself than the nation and any of us who serve it."
The diplomat continued: "Either he's compromised by Putin or he's a pussy, in which case he should grab himself."
For more: The Daily Beast