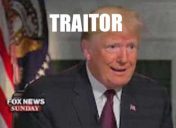 Trump on the shutdown: "We will not cave!". Well today he caved.
Speaking to reporters in the White House later that same day, Trump indicated he would not sign a short-term funding bill unless it included a "prorated down payment for the wall."
But barely 24 hours later, Trump caved: On Friday afternoon, the president announced he would sign a bill to reopen the government until February 15 — a bill that wouldn't include any money for his border wall, "prorated down payment" or otherwise.
Trump made the announcement during a Rose Garden speech that concluded with him vowing he will still get his wall, one way or another.
"We really have no choice but to build a powerful wall or steel barrier," Trump said. "If we don't get a fair deal from Congress, the government will either shut down on February 15, again, or I will use the powers afforded to me under the laws and the Constitution of the United States to address this emergency."
Trump's reference to "the powers afforded to me" suggests he may declare a national emergency in hopes of bypassing Congress to secure funding for a border wall. As Vox's Emily Stewart has explained, few people doubt that Trump has the power to declare an emergency, but whether he could leverage one into securing funding for a wall is another question.
Trump's case won't be helped by the fact that he's already admitted his emergency declaration would be a response to a political outcome that's unsatisfactory to him — not conditions at the southern border.
Between now and February 15, a bipartisan conference committee will try to reach an agreement on a border security plan. House Speaker Nancy Pelosi (D-CA) has repeatedly stated that she won't support Trump's wall, which she's described as "immoral, ineffective, and expensive." But as my colleague Tara Golshan has detailed, Democrats have left the door open to supporting some sort of "physical barriers" along the border.
Move at VOX