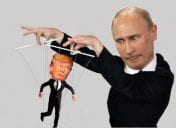 Trump reportedly keeps finding a way to meet the Russian leader privately.
If you're a US president, it's probably not a great idea to meet with a foreign leader who meddled in your country's elections without some way to record what's being discussed.
But that's just what President Donald Trump apparently did — again.
According to the Financial Times, Trump spoke to Russian President Vladimir Putin during last November's G20 summit in Argentina without a US official present to take notes. First lady Melania Trump was by the president's side during the chat, but no staff joined them.
The White House had previously acknowledged that both leaders met for an "informal" talk but didn't disclose that Trump had no official member of his team present. Putin did have someone, though: his translator, although it's unclear if that person wrote anything down.
This isn't the first time Trump has done this. During the G20 meeting in Germany in July 2017, he got up from his seat during a dinner in order to sit next to Putin, who did have his translator to help. That meeting, which the White House didn't initially reveal, came just hours after Trump bought Putin's denial that Russia didn't intervene in the 2016 presidential election.
Why having no note taker matters
There are two major problems with Trump's continued and ill-advised conduct.
First, the optics. Trump continually finds ways to meet with Putin privately. That's a really bad look when you consider the fact that US intelligence says the Russian directed a sophisticated campaign to help Trump win the White House, not to mention special counsel Robert Mueller's probe into possible Trump-Russia ties during the 2016 presidential campaign.
But second, and more importantly, we'll never really know what happened during the Trump-Putin chat since only four people were there — Trump, Putin, the first lady, and the translator — and nothing was recorded (that we know of).
In addition to this, the administration apparently has no notes of any of the many Trump-Putin interactions over a two-year span. And at least on one occasion in 2017, Trump told his translator after an official meeting with Putin not to share details of the meeting with staff. Trump actually seized his notes.
This isn't a minor clerical issue. It actively hinders some US officials from doing their job when they don't receive a detailed briefing about what the president discussed with another head of state. Without knowing what they agreed to, fought about, or even laughed at, it's nearly impossible for the administration to conduct policy accordingly.
And let's not forget that we're talking about Trump here: the guy who shared highly classified intelligence in a meeting with top Russian officials in the Oval Office back in May 2017 and who has surrounded himself with a high number of pro-Kremlin confidants.
More at VOX