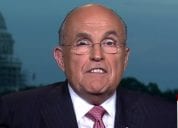 Rudy Giuliani's fixer, Lev Parnas, turned over documents. They're very ugly.
The House Intelligence Committee quietly released a new batch of impeachment inquiry evidence Tuesday evening: documents provided by Rudy Giuliani's fixer for Ukraine, Lev Parnas.
And boy, are they ugly.
The documents, which include Parnas's handwritten notes, copies of text messages, and other correspondence, reveal some new information — including that Giuliani claimed to be acting with President Trump's "knowledge and consent" in his communications with the Ukrainian government.
One handwritten note of Parnas's, scribbled on Ritz-Carlton hotel stationery, clearly states his main objective in his dealings with Ukraine: to get Ukraine's president to announce "the Biden case will be investigated."
The documents also provide the strongest evidence yet that there was a corrupt understanding involving prosecutor general Yuriy Lutsenko (a Ukrainian official in the previous regime). Lutsenko offered to investigate Burisma and the Bidens — and, in exchange, he insisted that US Ambassador to Ukraine Marie Yovanovitch, whom he had clashed with, be fired. He made this quid pro quo clear in his messages to Parnas.
But most disturbing of all is a set of messages Parnas received from a person named Robert F. Hyde, a Republican congressional candidate. Hyde texted Parnas that he had people tracking Yovanovitch's movements closely in Ukraine. He claimed he could tell whether her phone and computer were off. And he wrote: "If you want her out they need to make contact with security forces." (It is not yet clear whether these claims by Hyde were true.)
There's relatively little about Trump specifically here — Parnas was a degree removed from the president — but the overall takeaway is that the effort to get dirt on Biden stunk to high heaven of corruption.
Lev Parnas is a Soviet-born US citizen now living in Florida who donated large sums of money to Republicans in recent years and became a close associate of Giuliani. Parnas and his colleague Igor Fruman ended up serving as Giuliani's "fixers" in his search for dirt that would help Trump politically in Ukraine. They talked to Ukrainian officials and tried to help Giuliani get documents and meetings.
In October, though, Parnas and Fruman were indicted by the US Attorney's Office for the Southern District of New York on charges of campaign finance law violations, regarding those hundreds of thousands of dollars they donated to Republicans in 2018. Since then, Fruman has been quiet — but Parnas went public, claiming through his lawyer that he had important information about the impeachment inquiry that Democrats would want.
The judge in Parnas's case gave him permission to turn over some of the evidence prosecutors had obtained to House impeachment investigators. He has done so — and this is our first look at some of what he provided.
Giuliani told the Ukrainians he was acting on Trump's behalf
First off, the documents make clear that Giuliani told the Ukrainians he was acting at Trump's behest. He wrote a letter to Zelensky dated May 10, 2019, while Zelensky was still president-elect and shortly before he was inaugurated, asking for a meeting.
"In my capacity as personal counsel to President Trump and with his knowledge and consent, I request a meeting with you," Giuliani wrote.
Read more at VOX