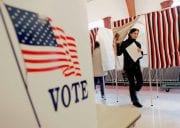 The day has finally arrived. Is the long national nightmare We should know soon.
Hold on tight, LNC will have all the news across our many networks. Join our chat room to talk about what's going on and speak with other voters about what is happening on election night.
Now get out there and vote tonight and come back to LNC to check on the returns. If you're standing in line at a polling location you can use LNC on your mobile phone to watch the news live.
Click Here to watch CNN LIVE. Click Here to watch MSNBC LIVE. Check the menu for more channel options.
See you on the other side.