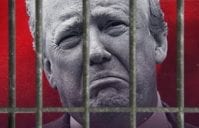 Five independently elected investigators have turned their attention to former President Donald Trump, a sign his legal woes are mounting as he no longer enjoys the protections once afforded to him by the Oval Office.
Trump is now facing inquiries run by elected officials from Georgia to New York to Washington with only their constituents to answer to. Most are Democrats, but one key investigation was launched by a Georgia Republican who has faced heavy criticism from Trump since the election.
And the former President's actions on his way out of office, including his attempts to overturn the 2020 election results and to stir up his supporters with baseless claims of fraud until they stormed the US Capitol on a harrowing January day, have only added to his legal problems.
"It's never happened in our history but every single one of these prosecutors and attorneys general has more than sufficient predication to investigate what they're investigating," said Daniel R. Alonso, who was a top deputy to Manhattan District Attorney Cyrus Vance from 2010 to 2014.
There are signs the probes are picking up. In New York, investigators recently got their hands on Trump's tax returns and have bolstered their team with a prosecutor who specializes in complex financial cases. In Georgia, another prosecutor plans to begin requesting subpoenas from a grand jury as early as this week.
"The world has changed for Donald Trump, legally, now that he's no longer president," said Elie Honig, a former federal and state prosecutor and a CNN legal analyst. "Donald Trump tried to delay civil suits against him, he tried to delay subpoenas against him while he was president. All of that is gone now, so now we're seeing multiple investigators — federal and state — digging in and taking a hard look at Donald Trump."
In Manhattan, all eyes are on Vance, who has been investigating Trump's finances for two years and is not expected to run for reelection.
Read more at CNN