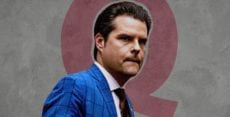 Rep. Matt Gaetz of Florida sought "blanket pardons" for himself and his political allies from President Donald Trump shortly before Trump left office in January, The New York Times reported Tuesday.
The Times, citing two people familiar with the discussions, said Gaetz asked the Trump White House, in its final weeks, to grant him immunity for any crimes for which he might later be convicted.
Gaetz is currently being investigated by the Justice Department over whether he had a sexual relationship with a 17-year-old and paid for her to travel with him, and broke sex trafficking laws by doing so.
The department began investigating Gaetz late last summer as part of a broader inquiry into the former Florida tax collector Joel Greenberg, who was indicted last August on 14 felony counts, including carrying out the sex trafficking of a minor between the ages of 14 and 17. Last week, it was reported that the girl at the heart of the Gaetz inquiry is the same one who was involved in the sex trafficking charge against Greenberg.
Federal prosecutors started investigating Gaetz under then Attorney General William Barr's tenure, and Barr and several other senior Trump appointees at the Justice Department were briefed on the probe. The Times reported that it was "unclear" if Gaetz or the White House "knew at the time of the inquiry, or who else he sought pardons for."
More at Yahoo News